Further Reading

Julian Cope's Krautrocksampler



Julian Cope (arch-Drude, ex-The Teardrop Explodes!) has done much to raise the profile of Amon Düül II, and Krautrock in general, with this brilliant book. In fact, it's been so successful it's gone to a third edition!
As the title suggests, this is a brief history of the radical West German music scene in the late sixties-early seventies, and (as well as Amon Düül I/II) covers bands such as Popul Vuh, Can, Tangerine Dream, Neu!, and the Cosmic Jokers. Cope also lists his fifty essential Krautrock albums.
A German edition now exists, too!

It's published by:

Head Heritage
KAK Ltd.
PO Box 3823
London N8 8TQ
England

ISBN 0-9526719-1-3, price £7.99.
Can be ordered direct from Head Heritage!
German edition (ISBN: 3925817867, DM25,-_) can be ordered from amazon.de.
This is a 250+ page history (in German) of Amon Düül I and II from 1967 to 1979. Originally published in 1979, recently revised and reissued (1994), with many photos and some lyrics!
It's published by:

Sonnentanz-Verlag
Oblatterwallstraße 30
D-86153 Augsburg
Germany

ISBN 3-926794-20-8, price DM35,-.
Can be ordered from amazon.de.


Trevor Hughes and Dave Roberts' Psychedelic Guide to Amon Düül and Amon Düül II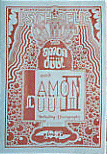 This 24-page booklet is great value, and contains a good discography, an interview with Chris and Renate from April 1996, and many music press reviews and gig and album advertisements old and new.
They also do a matching Psychedelic Guide to Arthur Brown, again great value at only £1 (+P&P).
It's published by:

Hawkfrendz
Zephyr
PO Box 6
Liscard
Wallasey
Merseyside L45 4SJ
England

Catalogue number HFZ 022 (no ISBN), price £1 (+P&P)